Tour bus gives staff and carers 'virtual experience' of living with dementia
30th March 2022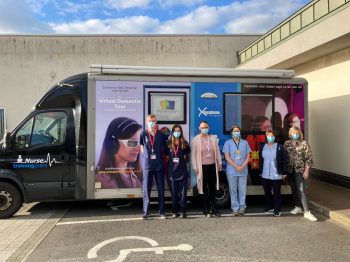 Staff and carers have been experiencing what it is like to live with dementia by climbing on board a virtual 'dementia bus'.
The bus toured Bluestone, Craigavon, Daisy Hill, South Tyrone and Lurgan hospitals between 14 and 25 March.
Colleagues entered the bus and were provided with various pieces of equipment to wear such as headsets, glasses, and gloves to experience a lack of, or overload to the senses. This equipment and the surroundings enabled colleagues to be transported into the sensory experience of living with dementia. They then attended a debrief session to process and share their experience.
Mairead McGahan, Service Improvement Lead for Dementia, said:
"As health and social care providers, it is so important that we have a real appreciation of what life is like for this group of patients.
"I am delighted that so many staff and carers visited the bus to gain a better understanding of dementia and the obstacles faced by people living with the condition, so that we can improve how we interact and communicate with them whilst in our care.
"There was overwhelmingly positive reviews from everyone who attended:
"The best training I have ever had", "So informative and loads of advice to take forward when caring for my patients", "I wish I had of had this training when my mum was first diagnosed, I will look at everything differently now"."
The Virtual Dementia Tour is the only scientifically and medically proven way of giving a person with a healthy brain the experience of what dementia might be like.
Thanks to the support of Clanrye Group and Alzheimer's Society who provided a wraparound service.