Trust Excellence Awards 2020 launched to celebrate and recognise health and social care staff who make us proud
13th January 2020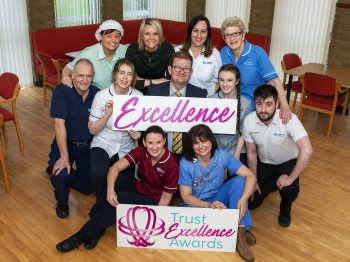 We have just launched a key event in our calendar – the 2020 Trust Excellence Awards.
Now in its 10th year the awards ceremony is an opportunity to recognise and celebrate Trust employees who provide outstanding care and support for patients, clients and their families.
Geraldine Donaghy, Non-Executive Director with the Trust and Chair of the Excellence Awards committee, said: "The Excellence Awards is one of the most uplifting events of the year.  It provides an opportunity to recognise our wonderful staff and the contributions they make in delivering high quality care and support  to those in our community.  I'm delighted to announce the launch of our 2020 Excellence Awards and would encourage our staff to nominate colleagues/teams they believe are deserving of recognition.
There are a range of award categories but our 'People's Choice' category is specifically for patients, clients, service users or relatives.
I ask you, members of the public, patients or users of our services to nominate individuals or teams, who you feel deserve recognition for their hard work and dedication.  Someone who has exceeded your expectations in the course of their work to provide you or someone you know with exceptional, high quality, compassionate care and support.  The person you are considering may work in a hospital/health centre/ day centre, or come to your home or they could work as support staff – porters, domestics, drivers, clerical staff, a nurse, a doctor, therapist, catering staff."
For this award the judges will be looking for evidence of:
How they have exceeded your expectations in the service you received
How they demonstrated our HSC Values and Behaviours in their interaction with you by demonstrating:
– genuine concern, kindness and compassion
– respect and dignity and engaging with you on issues that affect you
– openness and honesty, acting with integrity
– excellence by putting the safety, needs and welfare of you first
How to nominate a member of Southern Trust staff/team for the People's Choice Award? Browse the Information pack and complete a Nomination Form.
If you would like to receive the form by post send an email to: Excellence.Awards@southerntrust.hscni.net or Tel: 028 3756 4159.
The closing date is 5.00 pm on Friday 7 February 2020. The overall winner will be announced at the Excellence Awards Event on Tuesday 16 June 2020.