Trust physio's guidance keeps older people moving
4th November 2021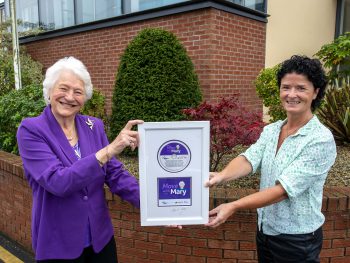 A Southern Trust physiotherapist provided advice and assistance in producing an exercising programme aimed specifically at keeping older people moving during the extended Covid-19 lockdown.
Cathy McKeown, in her role as Clinical lead Physiotherapist for Non Acute hospitals and Community Falls Service, was the lead physio who guided all the exercise videos for the 'Move with Mary' DVD – a series of five exercise videos, which caters for every level of capability, ranging from simple seated stretches, to balance, strength and gentle aerobic exercises suited to older people.
Cathy and Age NI teamed up with Lady Mary Peters to produce the videos, which were in response to a survey which showed that around 40 per cent of older people said they were worried about the effects of the lockdown on their mental and physical wellbeing.
Lady Mary Peters recently visited Lurgan Hospital to present Cathy, who has led on the development of strength and balance exercise promotion locally and regionally for a number of years and is a member of the Regional Frailty Network who requested her assistance with these productions, with a framed copy of the 'Move with Mary' DVD.
"The Trust is very proud of this leading edge collaboration with AgeNI and the contribution that strength and balance exercises in older people make in the prevention of falls and in the rehab recovery phase post falls," said Cathy.
Lady Mary Peters acted as the model for the five short videos and the booklet and the videos are available on youtube (www.ageni.movewithmary) and on DVD while the booklet is available for download or in hard copy.
Lady Mary Peters said, "I am delighted and proud to have worked with Age NI on the Move with Mary exercise programme and am particularly grateful to Cathy McKeown who made sure I did all the exercises properly. It is great to know that the exercises were included into 60,000 brochures, watched over 10,000 times on YouTube and that 18,000 DVD have been distributed throughout Northern Ireland."
The videos have been developed in partnership to support the work of the Northern Ireland Frailty Network, Age Friendly Network NI, care homes and Age Sector Networks delivering locally for the benefit of older people. A booklet, 'Keeping Well at Home' compliments this online resource.