Trust pledge to 'listen and learn' from young people
17th October 2019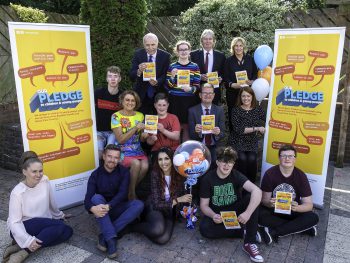 The Southern Health and Social Care Trust has made a formal pledge to listen to and involve the views of young people in planning services that affect them.
The promise comes following a Care Day event attended by the Trust Chair and Chief Executive at Stormont, where young people from VOYPIC (Voice of Young People in Care) said they would like to build better relationships with the people who make decisions about their lives.Young people from Autism Services and Looked After young people from 14 Plus have since been working with Trust Board on a range of issues like accessibility of services, communication, accommodation and employment opportunities for young people with autism and those leaving care.
Paul Morgan, Director of Children and Young People's Services for the Southern Trust said: "Children and young people can often feel that they don't have the opportunity to share their experiences of using services or have a genuine influence on issues that really matter to them.
"As decision makers it is so important for us to listen and involve all of our service users, to make sure that we are delivering services that actually address their needs.
"I am absolutely delighted that Trust Board, at the most senior level of our organisation, has made this commitment to take the views of young people seriously in improving services into the future."
Oisin, one of the young people working with the Board said: "It was great to be part of the Children and Young Peoples Pledge and to feel like we have a say in services."
Kevin added: "It was amazing to finally feel heard, in working directly with Trust Board Directors ,"
A number of developments from the new partnerships include: a life skills programme and volunteer scheme for young people with autism; a Trustwide yoga programme; a video and website for young people with autism; and an information leaflet on the 14 plus service. A programme of more tailored activities for Looked After Children is also being explored along with the identification of more appropriate accommodation for young people leaving care.