Work of Specialist Cardiology Registrars Published! 
29th April 2021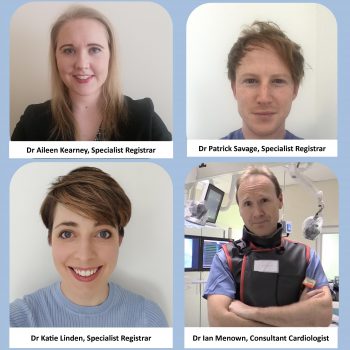 Well done to three of our Cardiology Specialist Registrars for the recent publication of a paper in the journal Advances in Therapy.
Doctors Aileen Kearney, Katie Linden and Patrick Savage along with Consultant Cardiologist Dr Ian Menown, identified and critically reviewed 87 cardiology clinical trials which had been published or presented at major international meetings over the past year in their paper 'Advances in Clinical Cardiology 2020: A Summary of Key Clinical Trials'
Cardiology subspecialties reviewed included acute coronary syndromes, preventative cardiology, interventional and structural cardiology, heart failure, electrophysiology and atrial fibrillation.
Senior author, Dr Ian Menown, commented: "Ongoing cardiology research is vital to ensure that treatments are optimised and that our patients continue to receive the best care".
"Despite the challenge of a global pandemic, 2020 has been an invaluable year in
cardiology research with numerous important clinical trials reporting results which have the potential to change current practice.
"We anticipate this paper, by summarising the key trials and placing them in clinical context, will be a really useful resource for clinicians and cardiology researchers".
Read their paper here