Work to reopen Daisy Hill Emergency Department Progressing
24th August 2020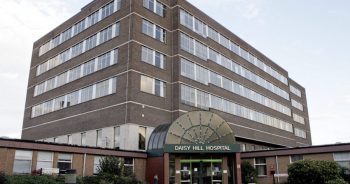 Work is ongoing to reopen Daisy Hill Hospital's Emergency Department (ED) on a 24/7 basis by the end of September.
In March, the Department temporarily closed and Daisy Hill ED staff transferred to Craigavon to run a second (Non Respiratory) Emergency Department as part of the Southern Trust response to COVID-19.
Over recent weeks, Trust staff have been working closely with the Daisy Hill Pathfinder Group to reopen the department.
Trust Chief Executive, Shane Devlin explains: "We know the difficult decision to temporarily move the Daisy Hill ED team to Craigavon caused great community concern, but by consolidating emergency, intensive care and respiratory expertise to one site, we had a very robust response to the pandemic during its peak.
"The dedication and flexibility of staff during this time has been remarkable and as we rebuild our services, their safety and that of our patients remains our priority.
"The ongoing pandemic has made the reopening of the Department a complex and challenging process and we greatly appreciate the commitment of our Pathfinder community colleagues in making sure that the service returns safely.
"Whilst we all welcome the reopening of Daisy Hill's ED, we must remember that we are still in a pandemic. Social distancing guidance and anticipation of another wave of COVID-19 means that there will be new arrangements in place to reduce the spread of infection, which will also place extra demands and constraints on staff.
"We also need to emphasise that reopening Daisy Hill's ED will not reduce growing pressures on emergency care across the area, unless services are used appropriately. We are already seeing increasing demands on the wider health and social care system, so it is absolutely vital that the public plays their part to help us manage these pressures. Before coming to the ED, we ask patients to always consider if your symptoms are a real emergency or could you speak to your pharmacist or GP first.
"Our new phone line for GPs in the Newry and Mourne area and the reopening of the Direct Assessment Unit are some of the alternative options to help avoid crowded waiting rooms and reduce waiting times for patients with urgent but less critical conditions.
"Work is also progressing regionally on a range of developments to help sustain and transform urgent and emergency care services as we come out of this pandemic and meet the needs of our population into the future."
The Trust will publicise the reopening arrangements for the Department in the coming weeks.