Better you Better care event for Nursing staff
30th November 2019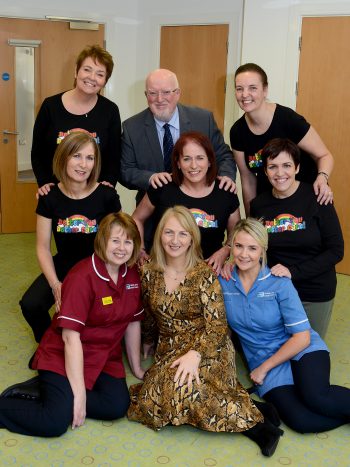 The Southern Trust has hosted a Nurses Day for those working in Mental Health and Learning Disability as part of creating caring cultures.
Nursing staff attended the 'Better You Better Care' event, which also celebrated their successes, in the Seagoe Parish Centre.The event gave staff the opportunity to relax, network to colleagues, meet and make new friends, a chance to connect with the variety of services being provided within the Mental Health and Learning Disability directorate, to listen to some really good health education and just chill and enjoy some time out.
Barney McNeany, Director of Mental Health and Learning Disability said: "We are very grateful to our nursing colleagues in Mental Health and Disability for all that they do, often going above and beyond their day to day responsibilities. That's why an event such as today's Better You, Better Care event is such an important development as it allows the Trust to express our gratitude and to allow you all some time and opportunities to care for yourselves and each other.
"The demands and pressures on all of our staff mean that we don't often get the chance to show our appreciation of the vital role you all play in providing an excellent service to Service Users of the Mental Health and Disability Directorate. The event was one such opportunity so it was great to see a very lively agenda for your time out and we hope you enjoy it!"
Heather Trouton, Executive Director of Nursing, Midwifery and Allied Health Professionals for the Southern Trust said: "Caring Cultures is about focusing on looking after ourselves and each other so that we have a healthy environment that is important in itself but that also enables and supports us to provide the very best care for our patients and service users, having the energy and capacity to seek continual improvement.
"The demands and pressures on every team are recognised, across all services and with our growing population and the complexities of today's society, it is very likely that these demands will continue. Therefore it is increasingly essential that that we treat each other with compassion, listening, understanding , identifying with each other and lending a helping hand where we can and I know that this is what you do each and every day.
"The creating caring culture team were tasked to create a logo to reflect what they saw as their vision. They decided on "Better you  …Better care".
"We need to support one another with dignity and respect and together create an environment to promote quality care."
The Trust's two year Nursing and Midwifery Workforce Action Plan aims to address some of the challenges facing nursing and midwifery into the future and one of our goals is to create a culture where our staff enjoy their work, are proud of the care they deliver and have opportunities to progress in their career.
You can download the full plan here – Nursing and Midwifery Workforce Action Plan 2019-2021