Breast Imaging Team delighted their service has resumed
27th July 2020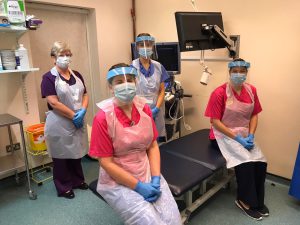 As of the 27 July, Breast Screening Services in the Southern Trust resumed following suspension during the Covid-19 pandemic and the whole team are delighted to be reunited following their redeployment.
Since March, some Breast imaging Services were temporarily suspended.
Mammography and admin/clerical staff were ready to operate outside their usual scope of practice and draw on skills and previous expertise to be redeployed to other departments to maintain essential services in the Trust. The majority of staff following refresher training and competency assessment were redeployed to Xray Departments in South Tyrone, Lurgan and Daisy Hill Hospitals.
Staff were challenged by new roles and responsibilities in coordinating PPE requirements, assisting in Donning and Doffing in Craigavon Area Hospital, maintaining breast surgical specimen imaging in Daisy Hill Hospital and embracing new working patterns.
The Trust values 'Quality Care with you for you' have been championed by each member of the team and they have displayed resilience, leadership, flexibility and commitment to the Trust throughout the pandemic.
The Breast Screening team are taking all necessary precautions so they can continue to safely offer this life saving Breast imaging service to as many patients as possible through early detection of breast cancer.
Full details of SHSCT Breast Screening are available here.
If you have any queries about your appointment please contact the Southern Trust Breast Screening Unit on Tel: 028 3756 0820.