Help shape the future of the Southern Trust's District Nursing Service
1st March 2023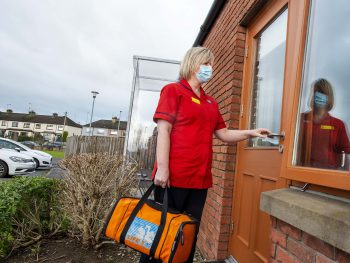 The Southern Health and Social Care Trust are inviting service users and carers with recent experience of their District Nursing Service to help shape its future.
The District Nursing Forums bring together District Nursing Service users, carers and staff in regular meetings to plan and action improvements for the service through an inclusive approach.
There are multiple places available in the bi-monthly online or face to face meetings. To take part you need meet the following criteria, you must be 18 years old or over, have experience of the Southern Trust's District Nursing Service within the last five years either as a service user or carer and want to help the Trust in improving their District Nursing Service.
Brian Beattie, Director of Adult Community Services said: "By joining the District Nursing Forums you will have the opportunity to work alongside our staff to help increase service user and carer involvement, and ensure learning from feedback is included in the service's future work."
For further information or to apply please contact the Southern Trust's Personal and Public Involvement team by email: PPI.team@southerntrust.hscni.net or telephone 028 3756 4474
Caption: Southern Health and Social Care Trust encourage District Nursing Service users and carers to help shape the service's future.