Implementing Signs of Safety
4th December 2019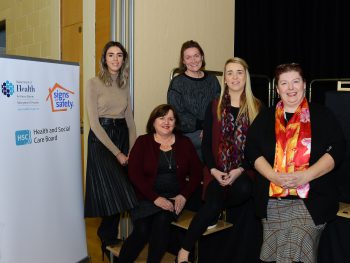 Around 100 social work staff who support children and families have come together to share their learning and progress in implementing the new 'Signs of Safety' practice approach.
Implementation of Signs of Safety commenced in June 2018 in the Southern Trust as part of a wider transformational programme in family and children's social services across Northern Ireland.Funded through the Department of Health's Transformation Fund, the programme is transforming how social workers engage with children and families at some of the most difficult times in their lives.
The Signs of Safety approach supports staff to work in greater partnership with families. It helps families to recognise and understand why social services are worried about them and allows parents to be more involved in the changes they need to make together with a family support network.
Speaking at the event, David Douglas, Assistant Director of Family Support and Safeguarding said:
"I would like to take this opportunity to thank all of those Trust staff and representatives from partner agencies who have shown their dedication to supporting families and keeping children safe through the implementation of Signs of Safety.
"By building on the skills and experience of our social workers, Signs of Safety is helping us to develop better relationships with families and respond to their needs.
"It important for us to take time to review and share the successes of the Signs of Safety practice approach together with identifying  any challenges and how we can continue to improve our involvement with children and their families.
Feedback from the programme has been very positive from both families and staff. A mother of a looked after young person said: "I get on better with Social Workers now, they are there to help me get my family back together and offer support. Signs of Safety has brought us closer as a family, there are no secrets, everyone is there to help and my family are here to help me. I know what support my family will give me now."
A young person said: "Signs of Safety is better, it is keeping my family together. We are being listened to. I am happy to see my mummy and daddy working with my social worker. Everyone wants the same thing, they all want me to be happy and safe."