Physiotherapists join Daisy Hill ED team
22nd November 2022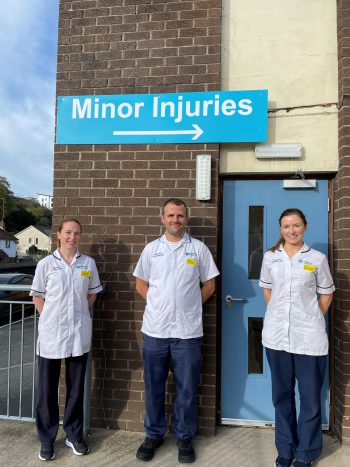 The addition of physiotherapists to Daisy Hill's minor injuries service is helping to speed up care for patients who come through the hospital's Emergency Department with acute soft tissue injuries.
The Southern Trust was the first in Northern Ireland to appoint 'First Contact Physiotherapy Practitioners' at Craigavon Hospital's ED and the team is now delighted to bring the service to Daisy Hill, five days a week.
Patients with musculoskeletal injuries like ligament sprains, muscle strains or other soft tissue pain or damage are directly referred to the team when they 'phone first' or arrive at the Emergency Department.
The team of Advanced Clinical Specialist Physiotherapists are seeing around 40 patients a week, managing their full care plan from assessment, investigations, diagnosis, right through to treatment and onward referral if needed.
Patients who receive early support from highly skilled musculoskeletal practitioners are less likely to develop chronic problems and return to normal function as quickly as possible.
The Physiotherapists are a very welcome addition to the team as Dr Gareth Hampton, Divisional Medical Director for Emergency Care for the Southern Trust explains: "With over 55,000 attendances last year and huge pressures across our hospital, we have an extremely busy Emergency Department. We work hard to ensure every patient is treated as quickly and safely as possible however we are always looking for ways to improve how we deliver our services and the overall experience for patients.
"The First Contact Physiotherapy Practitioners have been a great benefit to the team, but more importantly they are helping us to offer more patients the right care at the right time.
"By being able to offer physiotherapy expertise to a substantial group of patients, other clinicians are freed up to prioritise those with more life threatening, urgent medical conditions."
Anyone with an injury or illness which requires urgent treatment but is not immediately life threatening should always 'Phone First' before attending the EDs or Minor Injuries services at Craigavon, Daisy Hill or South Tyrone hospitals between 9am and 9pm Monday to Friday on: 0300 123 3 111 (Text Relay: 18001 0300 123 3 111).
The team will advise you on the most suitable service, arrange an appointment if you need minor injuries or physiotherapy and give you a referral code if you do need to attend ED.
Advanced Clinical Specialist Physiotherapists, Ciara Higgins, Daryl Carson and Karen Finnegan who have joined the ED team at Daisy Hill Hospital.