Presbyterian Moderator Visits Daisy Hill Hospital
9th March 2023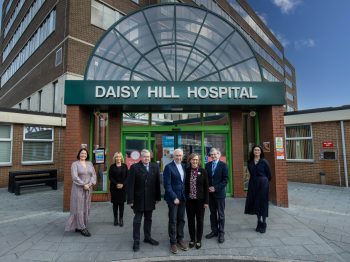 The Moderator of the Presbyterian Church in Ireland, Rt Reverend Dr. John Kirkpatrick has visited Daisy Hill Hospital.
Reverend Kirkpatrick visited hospital to learn about services and show his support for staff.
Welcoming Reverend Kirkpatrick, to Daisy Hill, Assistant Director of Functional Support Services in the Southern Health and Social Care Trust, Anita Carroll said: "Many of our patients take great comfort from their faith while they are ill, in hospital and we are proud to have such a dedicated Chaplaincy Service to support their spiritual needs. Our Chaplains are a great support to staff also who, due to the nature of our work are often faced with emotional and stressful situations.
"We were delighted to welcome Reverend Kirkpatrick to Daisy Hill, to meet with patients and hear about the great work of our staff during this particularly busy time."
The Southern Trust chaplaincy team comprises the Church of Ireland, Catholic, Presbyterian and Methodist churches. The chaplaincy service is available in Daisy Hill, Craigavon Area, Bluestone, South Tyrone and Lurgan hospitals.
Patients are also very welcome to invite their own member of the clergy to visit them during their stay.
More information on the chaplaincy service offered can be found on the Southern Trust website.
Chaplaincy Services | Southern Health & Social Care Trust (hscni.net)
---
Caption:
Charlotte Anne Wells, Assistant Director of
Acute Services Medicine; Anita Carroll, Assistant Director Functional Support Services; Rev Keith McIntyre; Rt Rev Dr John Kirkpatrick and his wife Joan; Rev Stuart Finlay and Grace Hamilton, Assistant Director Nursing, Safety, Quality and Patient Experience.