Southern Trust Information sessions for people with a new diagnosis of MS
20th June 2023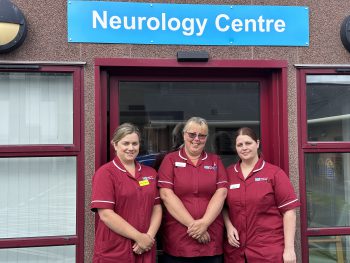 The Southern Health and Social Care Trust MS Nursing Service are relaunching their information sessions for those people who have had a recent diagnosis of Multiple Sclerosis (MS).
The sessions will provide vital information and support to those who have recently received a confirmed diagnosis of MS in a relaxed and informal session. It will take place on Thursday 27 July between 1.30pm and 3.30pm in Seagoe Parish Centre, Portadown.
MS is a condition of the central nervous system caused when the coating around nerve fibres (called myelin) is damaged.
Southern Trust MS Specialist Nurses Heidi Thompson, Gemma Jones and Melanie Nesbitt said:
"If somebody has just been diagnosed with MS, it is a very uncertain time for them. We hope that these information sessions will provide answers to questions they might have. Family and friends are also welcome to attend."
Information will be provided about the disease process, treatments, emotional well-being, research in Northern Ireland & sources of support. Our speakers will be Dr Jon McKee – Consultant Neurologist, Heidi Thompson & Gemma Jones – MS Specialist Nurses, Fiona Magill – MS Research Nurse, Neurology Care Advisory team & Susan Carey and the MS Society.
Orlagh Murphy, Interim Head of Service, Gastroenterology, Rheumatology, Neurology, Diabetes & Endocrine said:
"Our specialist MS nurses play a profound role in the lives of those affected by MS. We are committed to ensuring all our MS patients have access to high quality services and are very fortunate in the Southern Trust to have a dedicated team who are providing vital care and support through their MS specialist nurse roles."
The Trust have a limited numbers of spaces so if you are interested in attending please phone us on 028 37560075 before 26th June 2023. Alternatively you may use our automated text service on 07754447273. Please text yes or no along with your full name & date of birth.
Each month, we are planning to run more information sessions on symptom management   & MS. Watch this space for further information.