Dedicated resource for Adult Learning Disability service
22nd February 2023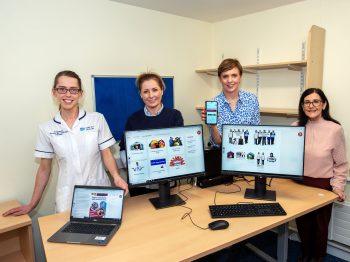 The Adult Learning Disability resource pages on the Southern Health and Social Care Trust webpage have been revamped with lots of new information and opportunities for carers to get involved.
The section of the website has been updated and redeveloped as part of a comprehensive process to become an integral site of information for service users, carers, staff and the public.
The webpages hosts a wealth of information about learning disabilities with lots of different resources in accessible formats. There is also an opportunity to familiarise with the team's range of professionals and facilities right across the Trust area.
In the weeks ahead, Southern Trust Learning Disability Carer Consultant's Majella Gorman and Bernie Marshall will welcome feedback on the redeveloped pages from service users, carers and staff.
"We have worked closely with our colleagues in Learning Disability to provide these dedicated pages on our Trust website and are delighted with the end product. We have structured the website with various forms of written content, videos and images and have adhered to accessibility guidelines.
"We are delighted that these resources will help support the more vulnerable members of our communities.
"We would welcome carer involvement within our Adult Learning Disability Service and within our new Carer's Hub, which seeks to ensure representation from all geographical and Adult Learning Disability service areas Trust. Carers who take part will have an induction and ongoing support from the Learning Disability Carer Consultants.
"We have more information on how to join the group on our website under our Learning Disability Carer Consultant's section or we can be contacted on the details below."
The website can be viewed at HERE 
If you would like to feedback comments on the website, you can contact Majella or Bernie at Majella.Gorman@southerntrust.hscni.net or Bernadette.Marshall@southerntrust.hscni.net or by phoning 07557858749 or 07557819172.