Diabetes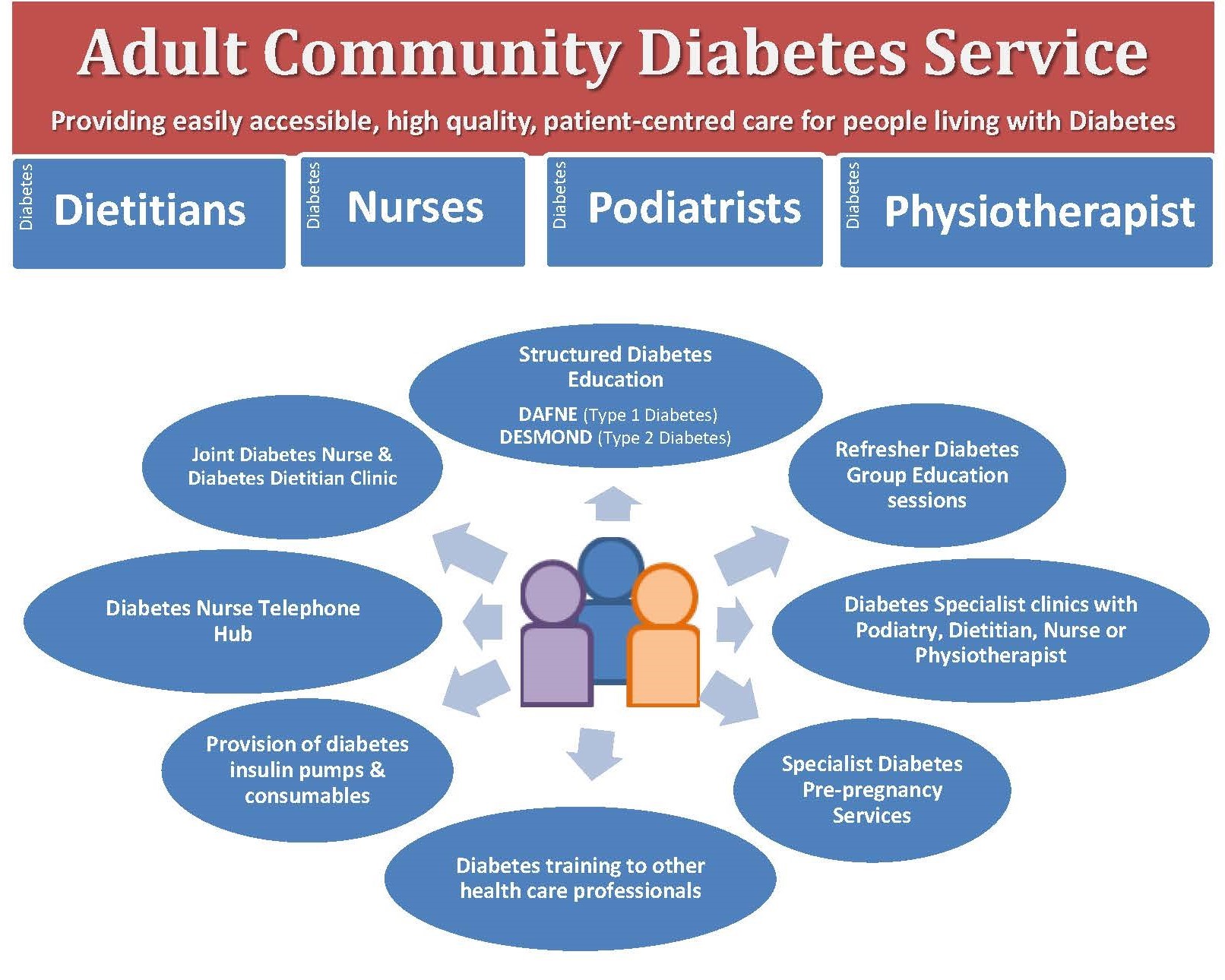 Contact Details for Referrals:
Diabetes Specialist Nurses (DSN): DiabetesSpecial.Nurse@southerntrust.hscni.net Trust wide: (028) 3756 1366
Diabetes Specialist Dietitians (DSD): ahp.cbu@southerntrust.hscni.net South Tyrone: (028) 37565308     Lurgan:  (028) 37561049            Newry:    (028) 37562060
Diabetes Specialist Podiatrists: ahp.cbu@southerntrust.hscni.net  Tel: (028) 37563444
Diabetes Specialist Physiotherapist: ahp.cbu@southerntrust.hscni.net  Tel: (028) 37565308
DESMOND programme for Type 2 Diabetes: ahp.cbu@southerntrust.hscni.net
For further information about structured education programmes:
Diabetes.Spe@southerntrust.hscni.net   Diabetes Secretary, 1st Floor Lurgan H&SS Centre, 100 Sloan Street, Lurgan, BT66 8NT.
Other useful links: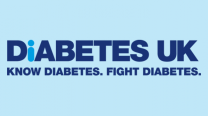 Diabetes Prevention Programme

The number of people living with diabetes in Northern Ireland is estimated at 96,000 with Type 2 diabetes accounting for 90% of all cases. The Diabetes Prevention Programme is an evidence based programme designed to help delay or prevent the onset of Type 2 diabetes for those identified as pre-diabetic by a healthcare professional.
The good news is that if you are in this position, the Diabetes Prevention Programme is here to help you reduce your risk of developing Type 2 Diabetes.
The Diabetes Prevention Programme is run over a 9 month period with 18 individual sessions carried out in a group setting covering topics of nutrition, exercise and behaviour change.  Changes in participant's lifestyles can lead to a lowering of blood sugar levels into normal healthy ranges.
What is pre-diabetes and how can I reduce my risk?
How can I get invited to a programme?
Firstly, your GP or practice nurse has to refer you to us. When we receive the referral, we will contact you and invite you on to a local programme.
Eligibility and exclusion criteria for the Diabetes Prevention Programme can be found below*.
| Eligibility Criteria: | Exclusion Criteria: |
| --- | --- |
| Aged 18 years + | Patients with Dementia |
| Identified as at high risk of developing Type 2 diabetes by a blood test (HbA1c 42-47 mmol/mol or FBG 5.5-6.9 mmol/l in the last 3 months) | Pregnancy/breastfeeding |
| No subsequent diagnosis of Type 2 diabetes | Gestational diabetes within the last 12 months |
| | Patients with Terminal Disease |
*SHSCT DPP team reserve the right to apply discretion when screening for eligible patients.  
What do our service users say?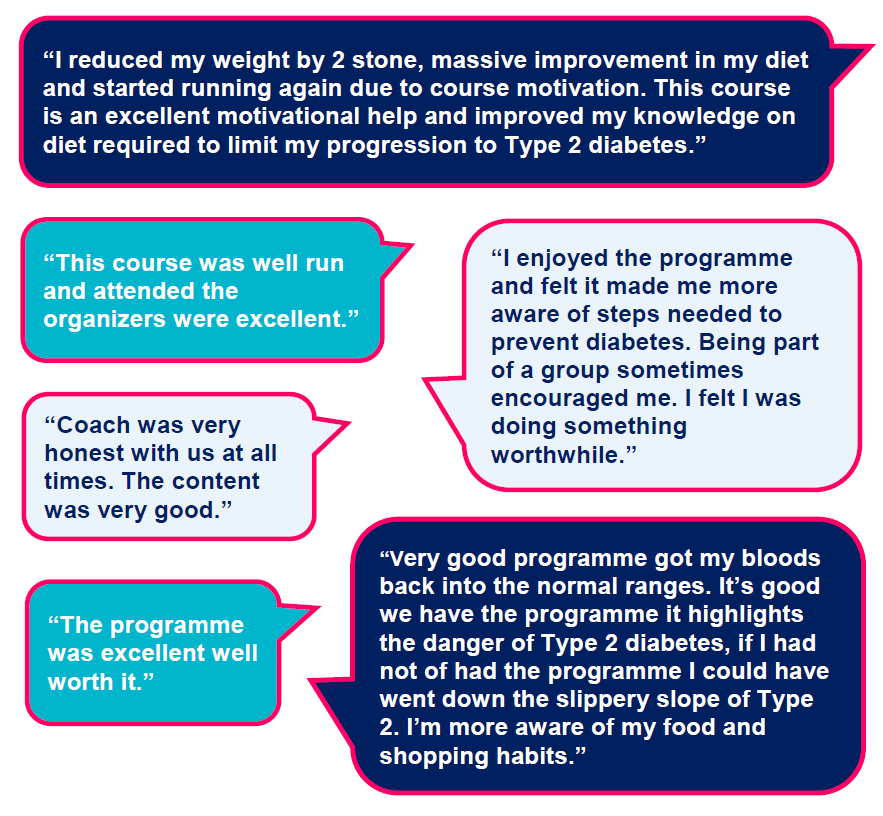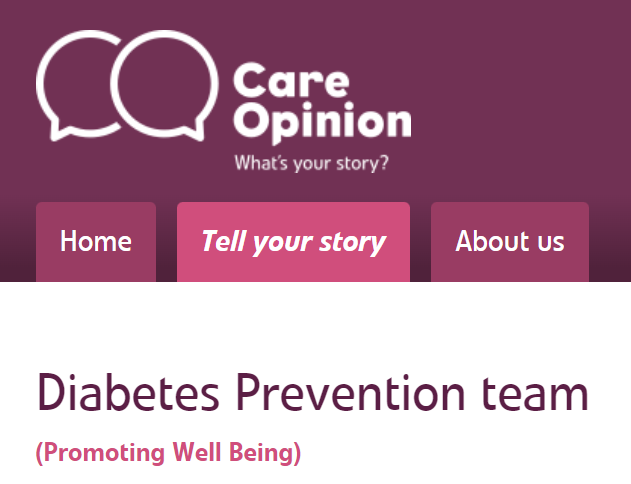 Please leave a review
If you have attended a Diabetes Prevention Programme in the Southern Trust, we welcome all feedback.
If you wish to leave feedback, please follow this link.
Useful resources
Diabetes UK – Know Your Risk of Type 2 diabetes
Prediabetes | Diabetes UK | Reduce risk type 2 diabetes
---
Contacts
Kathryn Bleakney
Early Intervention & Prevention Programme Manager
Promoting Wellbeing, Ward 2, St Luke's Hospital, Loughgall Road, Armagh, BT61 7NQ.