Organ Donation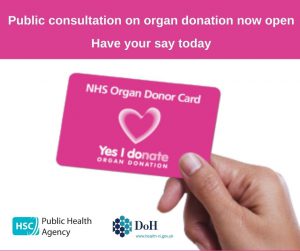 10 Week Consultation on statutory opt-out for Organ Donation
Health Minister Robin Swann has urged people to talk to their loved ones about organ donation as he launches a consultation on an opt-out system.  Minister Swann said: "I would encourage responses to the consultation to inform the proposed change in legislation." Read more
Read the consultation and submit a response  – The consultation will close at 5pm on 19 February 2021.
Consultation Information Pack
This pack gives an overview of the Consultation. It explains why changes are necessary for an opt-out system, what will change and exemptions to opt-out legislation. Why faith and beliefs are important and the legislative process.
Read testimonials from a transplant recipient, a patient on the waiting list, the family of someone waiting, a donor family perspective and most difficult of all, a perspective from those still waiting…
Sign the Register and Share your Decision
This Christmas talk to your family and friends about the 'gift of life'.
Listen to Transplant Recipients, Donor family members and staff from all NI Health Trusts as they appeal for people to save lives by signing the Organ Donation Register and to share their decision with loved ones.
Find out why it is so important to Sign the Register and Share your Decision at www.organdonationni.info
#organdonation #Dec11TellYourLovedOnes