RISE NI (Regional Integrated Support for Education in N.Ireland)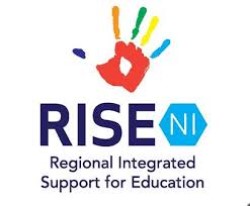 RISE NI is a regional early intervention service which supports children in pre-school educational and  mainstream primary school settings by working closely with parents and education staff to help children develop the foundation skills for learning i.e. speech, language, communication, sensory-motor, visual perception, social, emotional and behaviour skills.
The SHSCT RISE NI team consists of occupational therapists, physiotherapists, speech and language therapists, clinical psychologist, behaviour therapists, dietitian and therapy assistants.
Our Aim
'To reduce underachievement and improve life chances of children and young people by enhancing their educational development and fostering their health, wellbeing and social inclusion through the integrated delivery of the support and services necessary to ensure that every child has the best start in life' (Hain, 2006)
Who do we support?
For children in mainstream Foundation and Key Stage 1, RISE offer a wide range of 'universal and targeted' levels of support including teacher & parent training workshops, whole class and small group programmes.
RISE supports a small number of children at the specialist level. Specialist support is for children with persistent needs, who haven't improved with strategies that have been tried by school and assessment by RISE is indicated to help understand these needs.
Children referred for specialist assessment must have at least two areas of need that the team can assess and support e.g.

language and motor skills
Social, emotional and behavioural
Speech, language and communication
Sensory processing, fine motor and visual perceptual
Gross motor
What do we do?
Consultation / liaison with Education staff
Training / information to Education staff, parents and carers
Targeted whole class / group programmes
Multidisciplinary assessment
Advice
Short-term individual or group support
Signposting and onward referral when appropriate
Getting Ready to Learn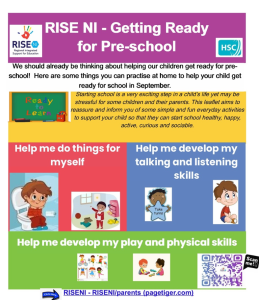 Starting school is a very exciting step in a child's life year may be stressful for some children and their parents. This leaflet aims to reassure and inform you of some simple and fun everyday activities to support your child so that they can start school healthy ,happy, active, curious and sociable.
RISE NI have developed a short leaflet of strategies to help support your child back to school.
RISE NI have created this short video clip to help parents support their child's return to school,  to help cope with any worries or fears children may have going back into their classrooms. 
For More information Contact RISE NI SHSCT 028 375 64293 rise.ni@southerntrust.hscni.net
Understanding Childhood Worry & Anxiety 
Please watch this short video clip to help parents to support their child with feelings of anxiety or worries.
Accessing the service
Referrals accepted from schools through consultation process.
Resources
RISE NI Regional Training Directory 2019-2020 ​
---
Contacts
RISE NI SHSCT
Hill Building
St Luke's Hospital
Loughgall Road
Armagh
BT61 7NQ